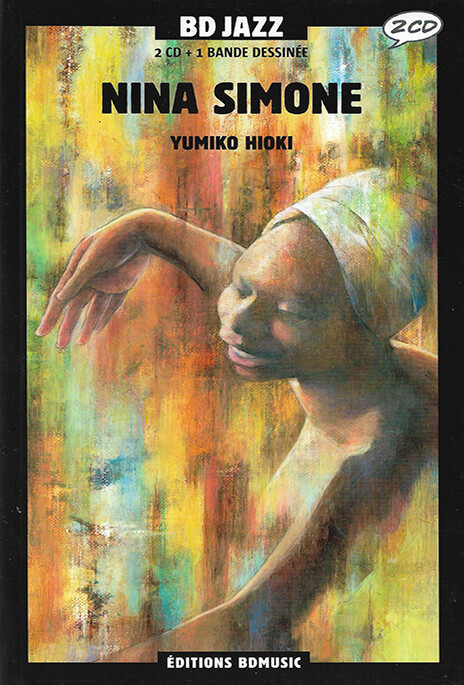 YUMIKO HIOKI & BRUNO THEOL
Nina Simone rightly belongs in the pantheon of exceptional voices, as an immense artist whose fervor and mastery of the piano made every performance a uniquely original work of jazz, soul, and classical music combined.
A whirlwind of triumphs and frustrations characterized her life, perhaps explained by a mixture of exceptional gifts, a seriously classical piano education, and three critical episodes that came without warning: the Curtis Institute's refusal to accept her as a pupil; the departure of her husband and manager; and the suffering of Black people in Sixties' America.
These circumstances forged her into one of the most gifted vocalists of her generation, as well as one of its most controversial personalities, fascinating millions of admirers.
This book includes an illustrated portion, a biography, and was accompanied by two CDs spanning multiple albums of Nina's. (All info regarding this title was provided by the Roger Nupie Archives.)
---
Disc 1 tracklist:
My Baby Just Cares For Me
I Loves You Porgy
Love Me or Leave Me
Little Girl Blue
Mood Indigo
He Needs Me
Plain Gold Ring
You'll Never Walk Alone
Central Park Blues
He's Got The Whole World In His Hands
For All We Know
African Mailman
Blue Prelude
Children Go Where I Send You
Stomping at the Savoy
It Might As Well Be Spring
You've Been Gone Too Long
That's Him Over There
Can't Get Out of This Mood
Willow Weep For Me
Solitaire
Black Is The Color of My True Love's Hair
Exactly Like You

This book includes an illustrated portion, a biography, and was accompanied by two CDs spanning multiple albums of Nina's. (All info regarding this title was provided by the Roger Nupie Archives.)
---
Disc 2 tracklist:
The Other Woman
I Don't Want Him (Anymore)
Summertime (Instrumental)
Summertime (Vocal)
Return Home
Wild Is The Wind
Fine and Mellow
Rags and Old Iron
I'll Look Around
Work Song
Just Say I Love Him
Memphis In June
Trouble In Mind
Little Liza Jane
Flo Me La
Do Nothin' Till You Hear From Me
Hey, Buddy Bolden
Something To Live For
The Gal From Joe's
It Don't Mean A Thing