NINA PERFORMS 'TO BE YOUNG GIFTED & BLACK' ON SESAME STREET (1972)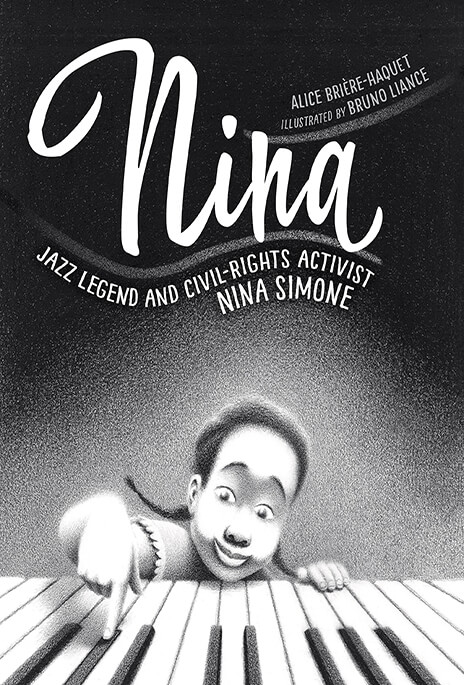 NINA: JAZZ LEGEND & CIVIL-RIGHTS ACTIVIST
A stunning picture-book biography of the High Priestess of Soul and one of the greatest voices of the 20th century.
With evocative black-and-white illustrations and moving prose, readers are introduced to Nina Simone, jazz-music legend and civil-rights activist. Shared as a lullaby to her daughter, a soulful song recounts Simone's career, the trials she faced as an African American woman, and the stand she took during the Civil Rights Movement. This poignant picture book offers a melodic tale that is both a historic account of an iconic figure and an extraordinary look at how far we've come and how far we still need to go for social justice and equality. A timeless and timely message aptly appropriate for today's social and political climates.
(author: Alice Brière-Haquet; illustrator: Bruno Liance)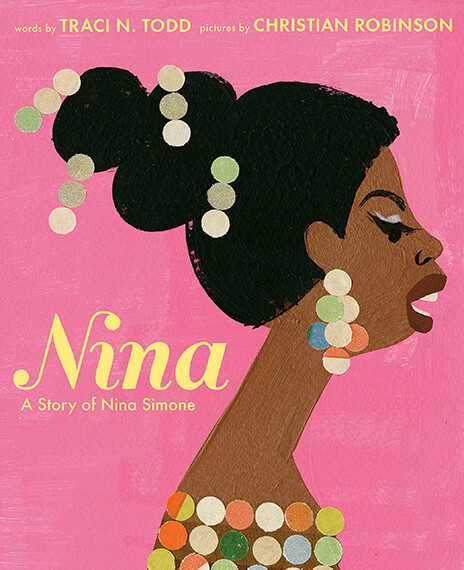 NINA: A STORY OF NINA SIMONE
This illuminating and defining picture book biography illustrated by Caldecott Honoree Christian Robinson, tells the story of little Eunice who grew up to become the acclaimed singer Nina Simone and her bold, defiant, and exultant legacy.
Born Eunice Kathleen Waymon in small town North Carolina, Nina Simone was a musical child. She sang before she talked and learned to play piano at a very young age. With the support of her family and community, she received music lessons that introduced her to classical composers like Bach who remained with her and influenced her music throughout her life. She loved the way his music began softly and then tumbled to thunder, like her mother's preaching, and in much the same way as her career. During her first performances under the name of Nina Simone her voice was rich and sweet but as the Civil Rights Movement gained steam, Nina's voice soon became a thunderous roar as she raised her voice in powerful protest in the fight against racial inequality and discrimination.
(words: Traci N. Todd; pictures: Christian Robinson)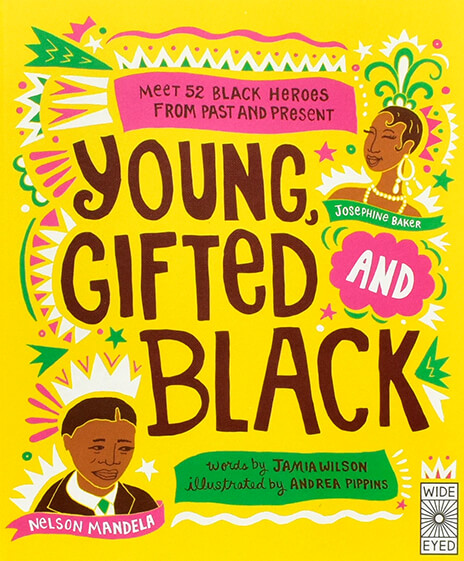 Young Gifted and Black: Meet 52 Black Heroes from Past and Present
With a title that references the late Lorraine Hansberry's phrase/Nina Simone song "young, gifted and black," this exuberant collected biography is one young readers won't want to miss.
Young readers are invited to explore one and two-page vignettes of 52 compelling figures in black culture worldwide. Each profile recounts their beginnings and marvelous feats as scientists, writers, athletes, artists, or activists, both past and present.
(words: Jamia Wilson; illustrations: Andrea Pippins)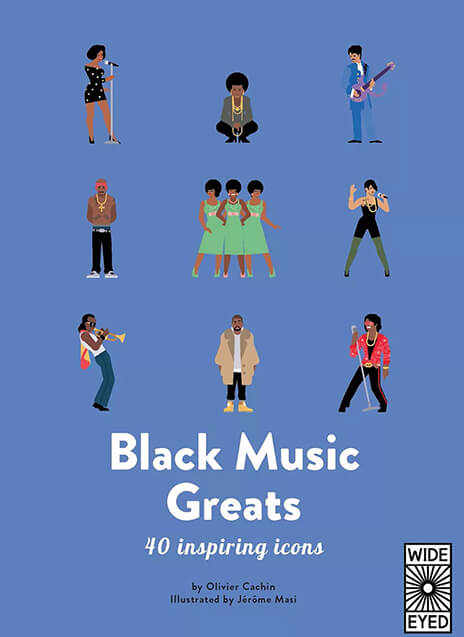 Black Music Greats: 40 inspiring Icons
The biggest names…the coolest sounds…the 40 most inspirational movers, shakers, and innovators in black music are here! In this fun, fact-packed book from the 40 Inspiring Icons series, learn how these black musicians changed music, from the creation of blues to the invention of rap.
Meet the Godfather of Funk, the High Priestess of Soul, and the King of Reggae. Learn how Marvin Gaye shaped the sound of Motown, how N.W.A. redefined rap, and what made the Supremes, supreme. From Robert Johnson, who recorded one of the first examples of the blues in 1936, to rap superstar Drake, whose 2012 album Views spent 13 weeks at number one on the US Billboard 200, these are the 40 black artists to be listened to and learned about by all:
Robert Johnson; Nina Simone; James Brown; Sly & the Family Stone; Miles Davis; Diana Ross & the Supremes; The Jackson 5; Marvin Gaye; Stevie Wonder; Aretha Franklin; Earth, Wind & Fire; Isaac Hayes; Tina Turner; Donna Summer; Bob Marley & the Wailers; Prince; Fela Kuti; The Last Poets; Chic; The Sugarhill Gang; Run-DMC; Eric B. & Rakim; Public Enemy; N.W.A.; Whitney Houston; 2Pac; The Fugees; Snoop Dogg; The Notorious B.I.G.; Erykah Badu; Jay-Z; Missy Elliott; Kanye West; Beyoncé; Pharrell Williams; Rihanna; Lil Wayne; Drake; Nicki Minaj; The Weeknd.
Each spread presents a single musician or band, highlighting key facts about their background, most popular songs, most iconic shows, genre-defining techniques, friends, rivals, and nicknames, along with a fun, illustrated depiction of them that calls out elements of their signature style.
With so many icons to choose from, which will you add to your playlist?
Each book in the 40 Inspiring Icons series introduces readers to a fascinating non-fiction subject through its 40 most famous people or groups. Explore these other great topics through their most interesting icons: People of Peace, Super Scientists, Soccer Stars, Fantastic Footballers, Music Legends, and Greek Gods and Heroes.
(author: Olivier Cachin; illustrations: Jérôme Masi)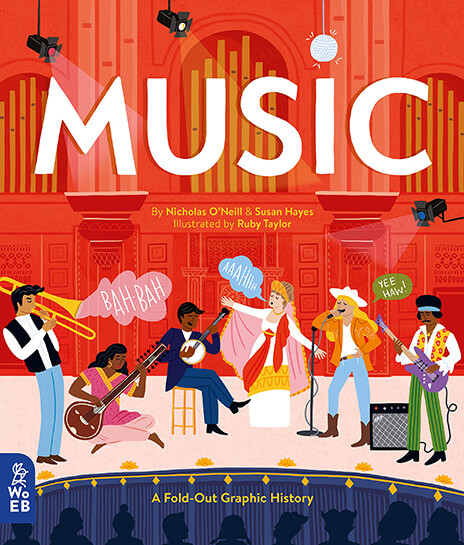 Music: A Fold-out Graphic History
Learn about how different genres started–including classical, folk, jazz, gospel, rock 'n' roll, country, punk, grunge and pop.
Explore the histories of music linked to particular cultures or regions–including Indigineous American, Asian, and African music; Son Cubano and Caribbean styles; and Australian bush music.
Discover the stories of music maestros from around the world–including Beethoven, Wei Liangfu, The Beatles, Joni Mitchell, David Bowie, Maria Callas, Nina Simone, Louis Armstrong, and Beyoncé. Marvel at the orchestra with a huge illustration set in London's Royal Albert Hall, and find out about the ancient instruments discovered all over the globe.
All this and more features in this richly illustrated timeline of music from 60,000 years ago to the present day that will delight children and families alike!
(authors: Nicholas O'Neill & Susan Hayes; illustrations: Ruby Taylor)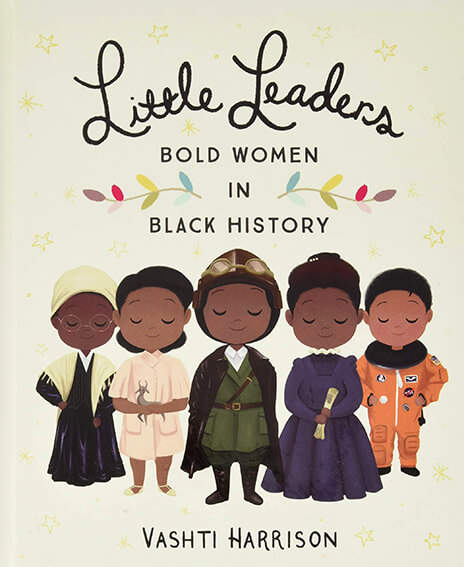 LITTLE LEADERS: BOLD WOMEN IN BLACK HISTORY
An important book for all ages, Little Leaders educates and inspires as it relates true stories of forty trailblazing black women in American history. Illuminating text paired with irresistible illustrations bring to life both iconic and lesser-known female figures of Black history such as abolitionist Sojourner Truth, pilot Bessie Coleman, chemist Alice Ball, politician Shirley Chisholm, mathematician Katherine Johnson, poet Maya Angelou, filmmaker Julie Dash, and musician Nina Simone.
Among these biographies, readers will find heroes, role models, and everyday women who did extraordinary things – bold women whose actions and beliefs contributed to making the world better for generations of girls and women to come. Whether they were putting pen to paper, soaring through the air or speaking up for the rights of others, the women profiled in these pages were all taking a stand against a world that didn't always accept them.
The leaders in this book may be little, but they all did something big and amazing, inspiring generations to come.
(words and illustrations: Vashti Harrison)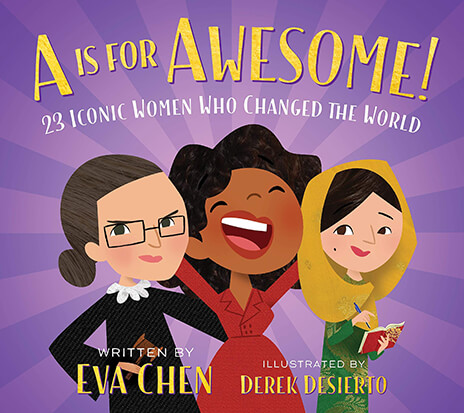 A IS FOR AWESOME: 23 ICONIC WOMEN WHO CHANGED THE WORLD
Why stick with plain old A, B, C when you can have Amelia (Earhart), Malala, Nina (Simone), Tina (Turner), all the way to eXtraordinary You―and the Zillion of adventures you will go on?
Instagram superstar Eva Chen, author of Juno Valentine and the Magical Shoes, is back with an alphabet board book depicting feminist icons in A Is for Awesome: 23 Iconic Women Who Changed the World, featuring spirited illustrations by Derek Desierto.
(author: Eva Chen; illustrator: Derek Desierto)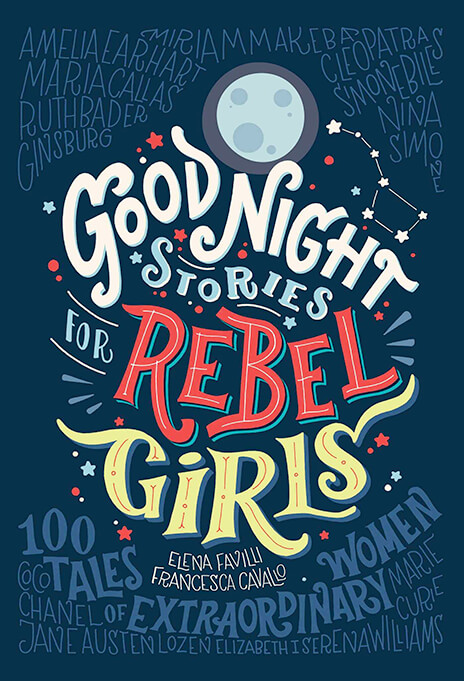 GOOD NIGHT STORIES FOR REBEL GIRLS: 100 TALES OF EXTRAORDINARY WOMEN
The New York Times bestselling Good Night Stories for Rebel Girls is a children's book packed with 100 bedtime stories about the lives of extraordinary women from the past and the present, illustrated by 60 female artists from all over the world.
This must-have volume brings readers on an empowering journey, introducing them to the real-life adventures of trailblazing women from Elizabeth I to Malala Yousafzai to Nina Simone. The unique narrative style of Good Night Stories for Rebel Girls transforms each biography into a fairytale, filling readers with wonder and a burning curiosity to know more about each hero. Each woman's story is also accompanied by a full-page, full-color portrait that captures her rebel spirit.
(authors: Elena Favilli and Francesca Cavallo; various illustrators)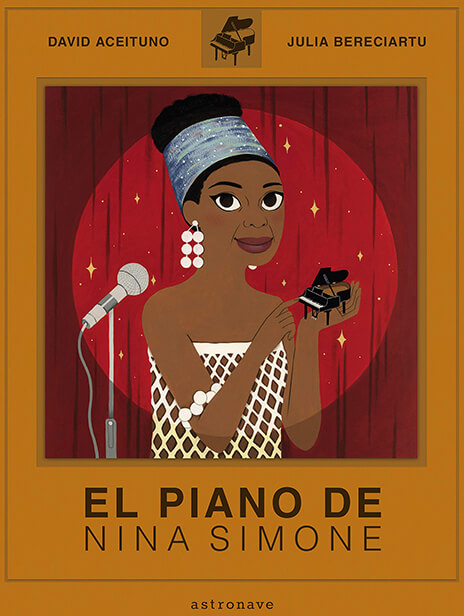 Learn about the exciting life of Nina Simone, a woman who fought for African-American civil rights with music.
As a child, Nina Simone did not even reach the piano pedals. When she is older, her fingers fly over the keys.
Armed with her music, she travels the planet to combat injustice and achieve a more just world.
currently only available in Spanish
(author: David Aceituno; illustrator: Julia Bereciartu)