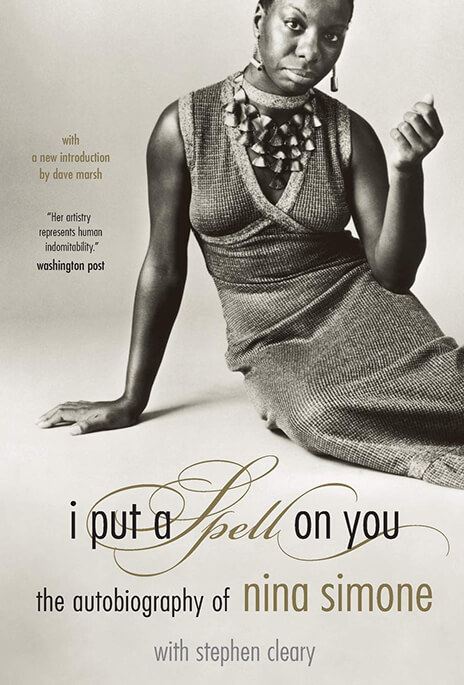 Nina Simone is probably best known for her hit "My Baby Just Cares For Me", a re-release which marked the triumphant return of a singer with a remarkable, but tragic career.
Often compared to artists like Billy Holiday and Edith Piaf, Nina differs in one essential way – she is a true survivor. Born in North Carolina she suffered poverty and racial prejudice before making her name as a musician.
She survived a stormy marriage, tragic love affair, arrest, imprisonment, mental breakdown and an attempted suicide before making the long climb back to the top.
This is an account of the life of a singer who has now become a legend.
(authors: Nina Simone & Stephen Cleary)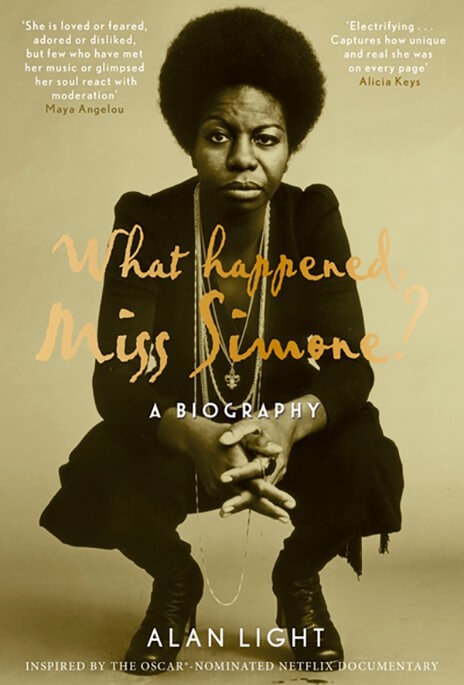 WHAT HAPPENED, MISS SIMONE?
Inspired by the critically acclaimed documentary and drawing on glimpses into previously unseen diaries, rare interviews and childhood journals, and with the aid of her daughter, What Happened, Miss Simone? tells the story of the classically trained pianist who became a soul legend, a committed civil rights activist and one of the most influential, provocative and least understood artists of our time.
This is the story of the real Miss Simone.
(author: Alan Light)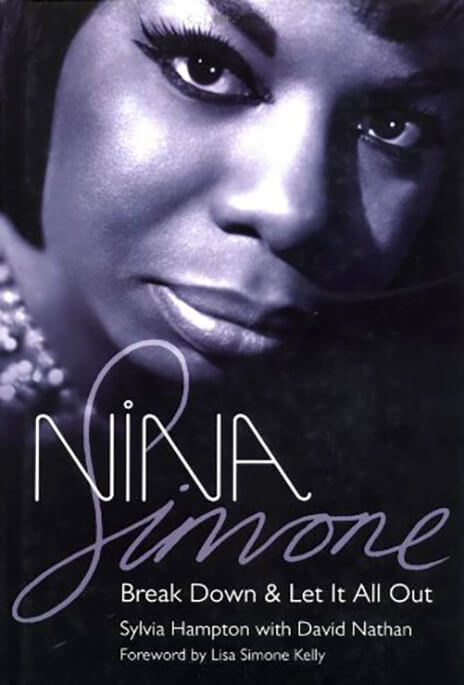 BREAK DOWN & LET IT ALL OUT
2004 — Sanctuary Publishing
A definitive portrait of the great jazz singer, songwriter, and musician chronicles the extraordinary life and career of Nina Simone, from her early training as a classical pianist to the heights of her lengthy international career, in a personal tribute to The High Priestess of Soul.
(authors: Sylvia Hampton & David Nathan)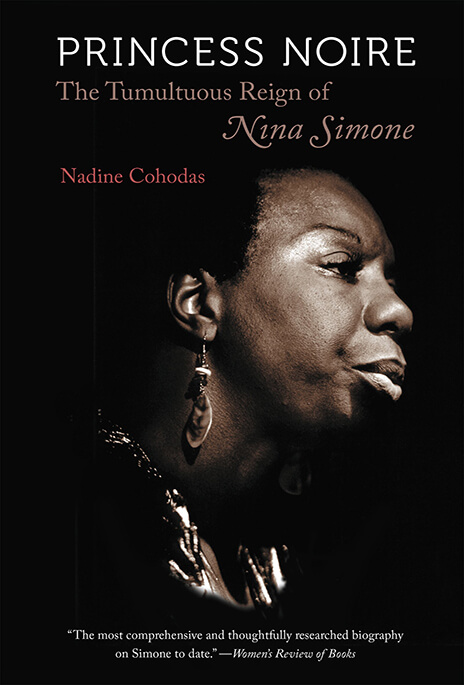 PRINCESS NOIRE: THE TUMULTUOUS REIGN OF NINA SIMONE
Tapping into newly unearthed material on Simone's family and career, Nadine Cohodas paints a luminous portrait of the singer, highlighting her tumultuous life, her innovative compositions, and the prodigious talent that matched her ambition.
With precision and empathy, Cohodas weaves the story of Simone's contentious relationship with audiences and critics, her outspoken support for civil rights, her two marriages and her daughter, and, later, the sense of alienation that drove her to live abroad from 1993 until her death.
Alongside these threads runs a more troubling one: Simone's increasing outbursts of rage and pain that signaled mental illness and a lifelong struggle to overcome a deep sense of personal injustice.
(author: Nadine Cohodas)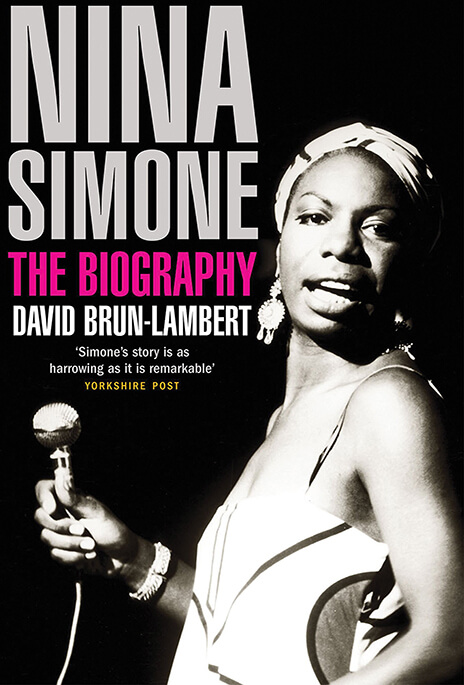 NINA SIMONE: THE BIOGRAPHY
This first-ever biography of Nina Simone caused quite a stir among reviewers. "A chastening read", said the Sunday Times; "Simone's story is as harrowing as it is remarkable", said the Yorkshire Post. 
No-one was quite prepared for the life story of the singer of such enduringly uplifting classics as My Baby Just Cares for Me turning out to be such a chilling litany of mental disorder, vile temper, terrible abuse at the hands of bad men, and a self-destructively hostile attitude all too often to the acolytes who came to see her perform.
(author: David Brun-Lambert)

*The 1st Dutch pressing of Brun-Lambert's book included a CD titled 'Hidden Treasures' featuring very rare tracks.
Exactly Like You (Québec, 1980)
You've Got To Learn (Philadelphia, 1966)
Why? The King of Love Is Dead (Stockholm, 1968)
I'm Giving It Up (Mount Vernon, 1966)
It Don't Mean A Thing (New York, 1961)
The Time Is Now (Mount Vernon, 1967)
I Got It Bad And That Ain't Good (New York, 1961)
Jesus Paid It All (Siebengewald, 2000)
Info provided by the Roger Nupie Archives.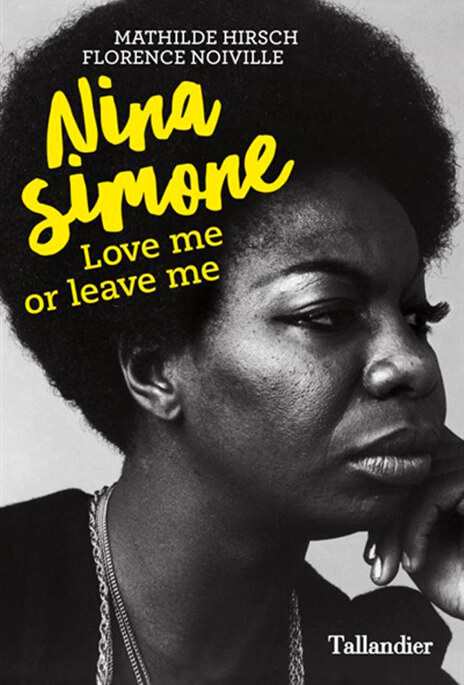 Eunice Waymon knew how to play the piano even before she knew how to walk. At age 10, she was already fighting against segregation: during a recital, Eunice refused to play if her parents were not seated in the front row, as Black patrons were relegated to seats in the back.
At age 18, Eunice dreamt of becoming the greatest black classical concert performer, but – because of the color of her skin – her dream was shattered.
Eunice renamed herself to Nina Simone and, from dive bars all the way to Carnegie Hall, she rose to fame.
With her powerful, warm, and mystical voice, Nina Simone invented a unique language, between jazz, classical, soul, and gospel.
Friends with radical souls like James Baldwin, Lorraine Hansberry, and Langston Hughes, Nina sang to defend Black rights alongside Martin Luther King.
Eventually setbacks including the greed and exploitation of the recording industry; the deaths of her compatriots fighting for civil rights; difficulty in being a good mother. Sadly Nina burns through her money and sinks into mental disorders.
From the United States to the South of France, via London, Africa, and the Netherlands, the authors have followed in Nina's footsteps. They offer us a portrait of a masterful artist in search of absolute freedom.
currently only available in French
(authors: Mathilde Hirsch & Florence Noiville)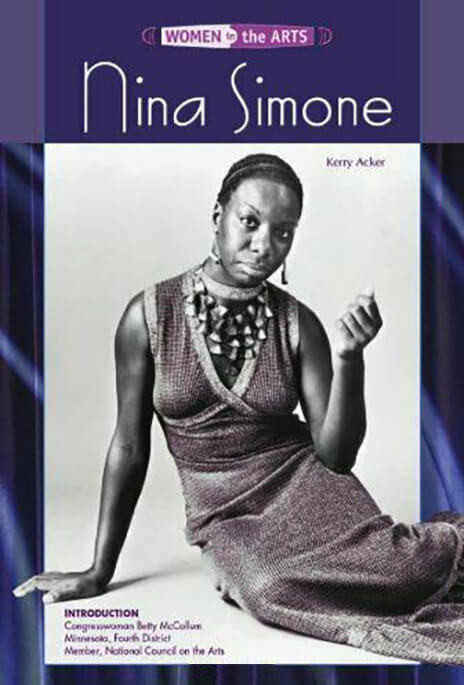 WOMEN IN THE ARTS: NINA SIMONE
2004 — Chelsea House Publications
A brief biography of the High Priestess of Soul and her music. From Bach to Billie Holiday, Gershwin to Bob Dylan, Nina Simone (1933-2003) melded a wealth of outwardly incompatible influences into her own peerless style. 
Simone's debut album in 1958 won her stardom that was to last for forty-five years and is likely to continue for decades to come.
(author: Kerry Acker)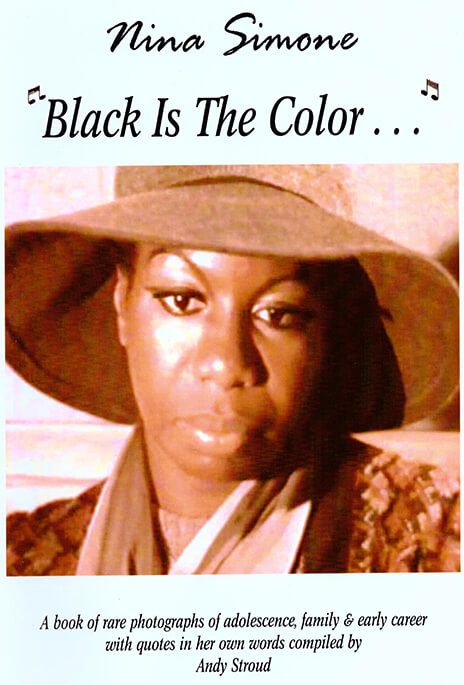 A book of rare photographs of Nina Simone's adolescence, family, and early career with quotes in her own words compiled by Nina's ex-husband and ex-manager, with an introduction by Nina's daughter, Lisa Simone.
(author: Andrew Stroud)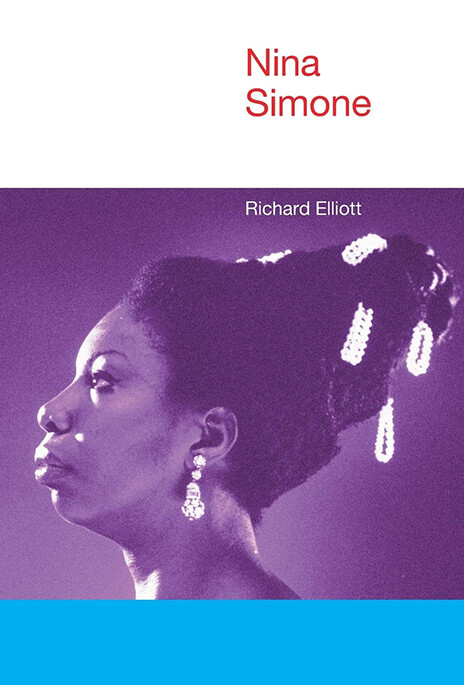 ICONS OF POP MUSIC: NINA SIMONE
2013 — Equinox Publishing
Placing Nina Simone and her music firmly within the socio-historical context of the 1960s, this book also argues for the importance of considering the artist's entire career and for paying greater attention to her music than is often the case in biographical accounts.
Simone defied musical categories even as she fought against social ones and the result is a body of work that draws upon classical and jazz music, country blues, French chanson, gospel, protest songs, pop and rock tunes, turning genres and styles inside out in pursuit of what Simone called "black classical music".
The book begins with a focus on the early part of Simone's career and a discussion of genre and style. Connecting its analysis to a discussion of social categorization (with particular regard to race), it argues that Simone's defiance of stylistic boundaries can be seen as a political act.
From here, the focus shifts to Simone's self-written protest material, connecting it to her increasing involvement in the struggle for civil rights.
The book also provides an in-depth account of Simone's 'possession' of material by writers such as Leonard Cohen, Bob Dylan, Sandy Denny and Judy Collins, while exploring the relationship between the personal and the political.
In considering material from the Simone's lesser-known work from the 1970s to the 1990s, the study proposes a theory of the "late voice" in which issues of age, experience and memory are emphasised.
The book concludes with a discussion of Simone's ongoing legacy.
(author: Richard Elliott)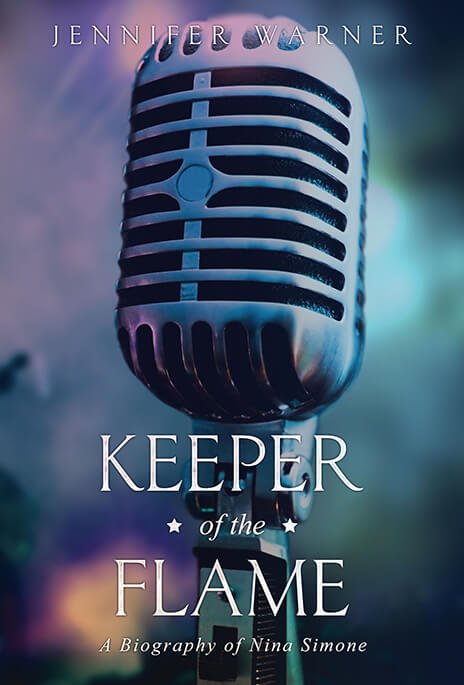 The life of Nina Simone is one of blocked paths and surprising detours. Some people are born to an obvious destiny, only to find that society, circumstance, and chance steer them onto an entirely different course.
Had Nina been born at a different time, she could very well have been a superstar of classical music at an early age. However, the severe oppression of African Americans in the United States during the 1950s forced her to find her fate down a different road.
That she did so with flair, grace, and brilliance speaks to the resilience of the oppressed spirit.
Though she battled terrible oppression, the greed of managers and lovers, and her own mental illness, she refused to allow the trials of life to stand in her way. What she left behind is a testament to the power of the human spirit, beautifully recorded in song.
This book tells her incredible story.
(author: Jennifer Warner)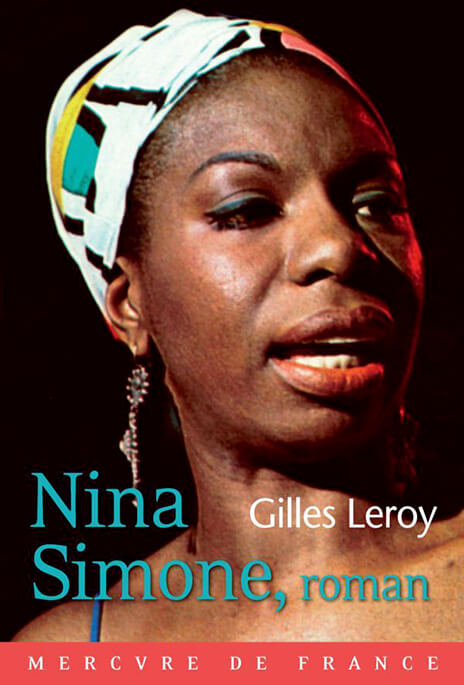 I was famous. I was recognized in the street. I was offered concerts all over the country. My records were released across Europe.
The television shows were asking for me. The movie stars were inviting me to their tables: Lauren Bacall, Frank Sinatra, the tiny Natalie Wood. My friends were writers: Langston Hughes, James Baldwin, Lorraine Hansberry. Could my life ever be more beautiful?
I was the darling of the moment and a little voice inside me whispered, "Enjoy it, Eunice. It might only last little while."
Eunice, that was my real name. Then I forgot it. Fifty years spent as 'Nina Simone' have made me forget my real name. And it's a funny thing, at the end of the day, to have to have a name that was never yours. To live a fate that was not mine.
How did Eunice Kathleen Waymon, the little black girl born to a poor family in Tryon, North Carolina, in 1933, become the immense Nina Simone, the diva with a unique voice and unforgettable piano touch?
The fate of Nina Simone resembles a novel: it is this novel that Gilles Leroy recomposes, tenderly delivering the totally true and totally fictionalized story of an artist adored around the world – but so lonely in life.
With this moving portrait of a wounded woman, Gilles Leroy offers us the third part of his American trilogy.
currently only available in French, Italian, and Dutch
(author: Gilles Leroy)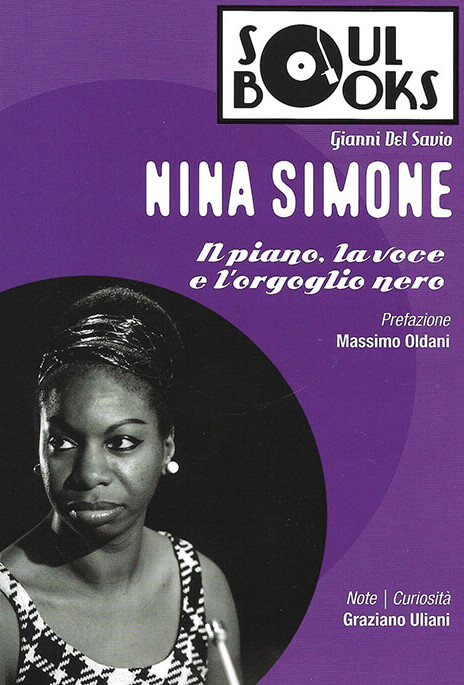 NINA SIMONE: The PIANO, THE VOICE, AND THE BLACK PRIDE
The art of Nina Simone escapes any classification of genre. In the span of a few years, shy, talented Eunice Waymon (pianist and then also singer) became one of the most important and charismatic figures in the history of Black music.
Given her commitment to civil and racial rights, for some years she is also the "voice of the movement." Unwilling to turn the other cheek ("I'm not non-violent" she will say to Martin Luther King), closest to the ideas of Malcolm X and Stokely Carmichael. 
Nina possessed great talent and passion for classical music, and used that talent and passion to develop her own style of music (she called it Black Classical Music) that touched on themes such as love, loneliness, spirituality, dignity, Black rights, all the way up to reincarnation. 
She not only composed a lot on her own but also reworked with great inventiveness some works by music of different rank and style, bent to her expressive needs. 
Attacks of paranoia and the frantic and greedy world of showbiz caused Nina retreat into herself, leaving behind a long trail of jewels and some exquisite masterpieces.
currently only available in Italian
(author: Gianni Del Savio)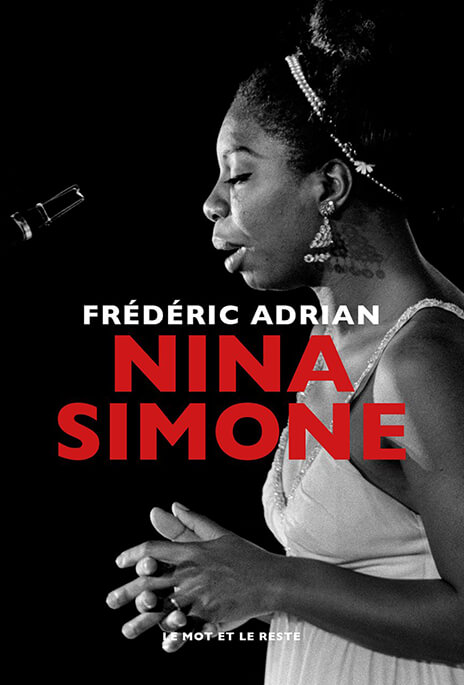 2021 — Le Mot et le Reste
From her American youth in the segregationist south to her last years in France, the life of Nina Simone reads like a novel.
Child prodigy hurt by racism, she made her debut in the dubious clubs of Atlantic City before triumphing on stages around the world. 
Very early on in the struggle for civil rights, she successfully mixed art and activism, but serious personal problems hampered her career.
After years of hardship, especially in Paris, she returned to success thanks to the unexpected triumph of the 1987 reissue of "My Baby Just Cares For Me". 
This biography highlights the career of an artist, belatedly recognized as the major creator that she was, as well as her influence, which goes far beyond the framework of music.
release date of 9/16/2021; currently only available in French
(author: Frédéric Adrian)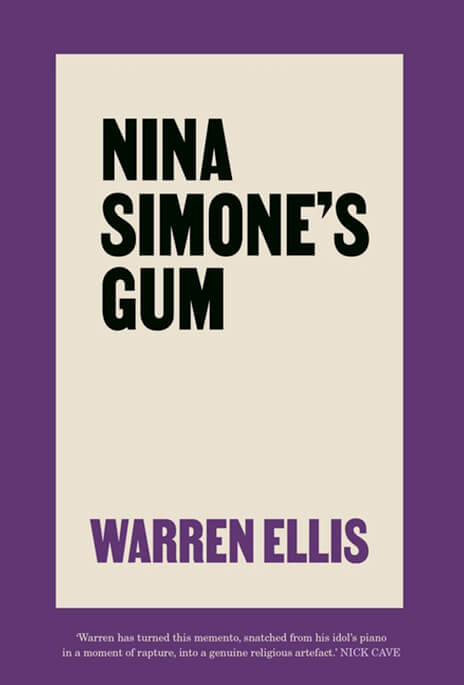 On Thursday, July 1st, 1999, Dr. Nina Simone gave a rare performance as part of Nick Cave's Meltdown Festival. After the show, in a state of awe, Warren Ellis crept onto the stage, took Dr. Simone's piece of chewed gum from the piano, wrapped it in her stage towel and put it in a Tower Records bag. The gum remained with him for twenty years; a sacred totem, his creative muse, growing in significance with every passing year.
In 2019, Cave – his collaborator and great friend – asked Warren if there was anything he could contribute to display in his Stranger Than Kindness exhibition. Warren realized the time had come to release the gum. Together they agreed it should be housed in a glass case like a holy relic.
Worrying the gum would be damaged or lost, Warren decided to first have it cast in silver and gold, sparking a chain of events that no one could have predicted, one that would take him back to his childhood and his relationship to found objects.
Nina Simone's Gum is about how something so small can form beautiful connections between people. It is a story about the meaning we place on things, on experiences, and how they become imbued with spirituality. It is a celebration of artistic process, friendship, understanding and love.
(author: Warren Ellis)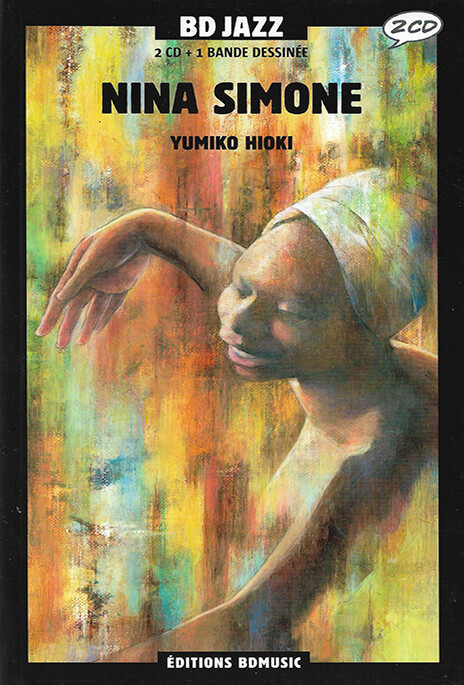 Nina Simone rightly belongs in the pantheon of exceptional voices, as an immense artist whose fervor and mastery of the piano made every performance a uniquely original work of jazz, soul, and classical music combined.
A whirlwind of triumphs and frustrations characterized her life, perhaps explained by a mixture of exceptional gifts, a seriously classical piano education, and three critical episodes that came without warning: the Curtis Institute's refusal to accept her as a pupil; the departure of her husband and manager; and the suffering of Black people in Sixties' America. 
These circumstances forged her into one of the most gifted vocalists of her generation, as well as one of its most controversial personalities, fascinating millions of admirers. 
(illustrator: Yumiko Hioki; words: Bruno Theol)
*This book includes an illustrated portion, a biography, and was accompanied by two CDs spanning multiple albums of Nina's. (All info regarding this title was provided by the Roger Nupie Archives.)
My Baby Just Cares For Me
I Loves You Porgy
Love Me or Leave Me
Little Girl Blue
Mood Indigo
He Needs Me
Plain Gold Ring
You'll Never Walk Alone
Central Park Blues
He's Got The Whole World In His Hands
For All We Know
African Mailman
Blue Prelude
Children Go Where I Send You
Stomping at the Savoy
It Might As Well Be Spring
You've Been Gone Too Long
That's Him Over There
Can't Get Out of This Mood
Willow Weep For Me
Solitaire
Black Is The Color of My True Love's Hair
Exactly Like You
The Other Woman
I Don't Want Him (Anymore)
Summertime (Instrumental)
Summertime (Vocal)
Return Home
Wild Is The Wind
Fine and Mellow
Rags and Old Iron
I'll Look Around
Work Song
Just Say I Love Him
Memphis In June
Trouble In Mind
Little Liza Jane
Flo Me La
Do Nothin' Till You Hear From Me
Hey, Buddy Bolden
Something To Live For
The Gal From Joe's
It Don't Mean A Thing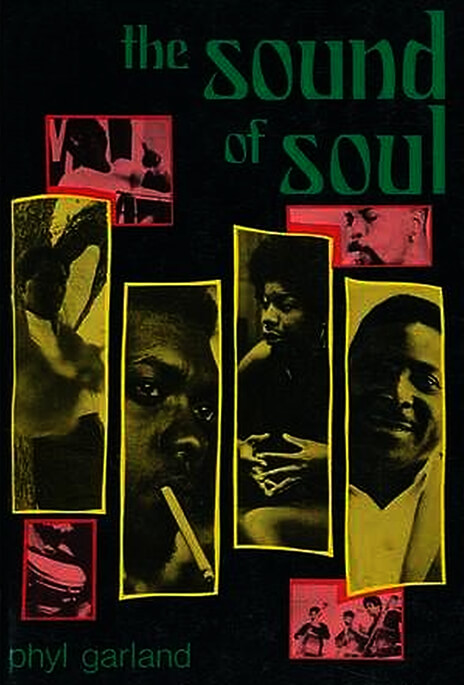 1969 — NTC/Contemporary Publishing
In The Sound of Soul: The Story of Black Music, Phyllis Garland traces the development of soul music from its earliest beginnings, pausing often to deal with specific and noteworthy musicians including those well-known like Nina Simone and those seldom encountered. Spirituals, the blues, hard rock, and their foundations -deprivation and discrimination – these are the stuff of The Sound of Soul…
(author: Phyl Garland)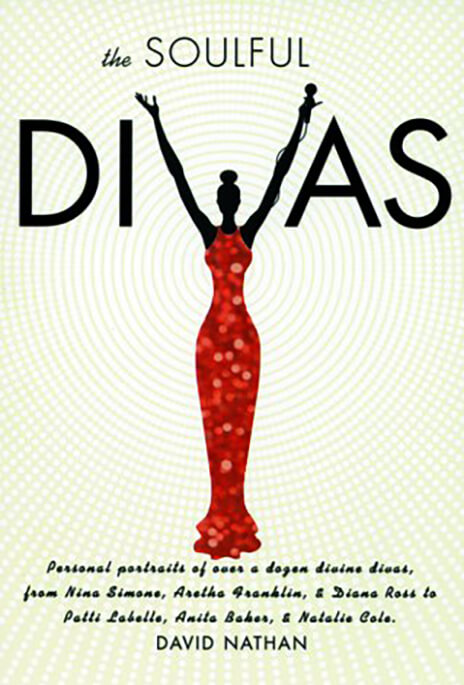 From the founder of the UK's first Nina Simone fan club, The Soulful Divas contains candid, behind-the-scenes profiles of over a dozen of the greatest female rhythm and blues vocalists of the 70s, 80s and 90s, including Nina Simone, Aretha Franklin, Diana Ross, Patti Labelle, Anita Baker and Natalie Cole. 
(author: David Nathan)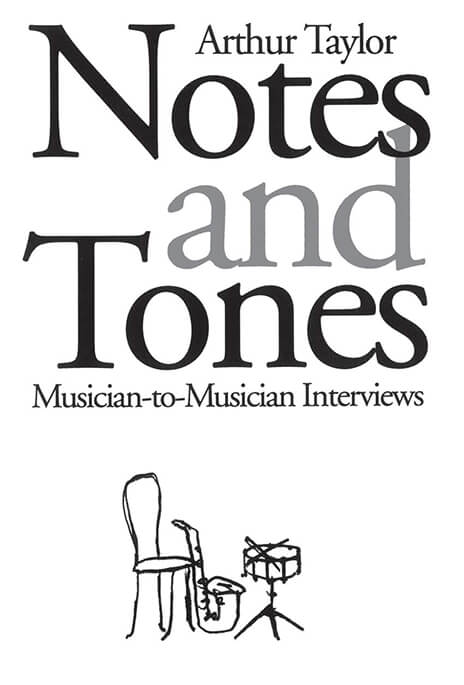 Notes and Tones: Musician-to-Musician Interviews is one of the most controversial, honest, and insightful books ever written about jazz.
It consists of twenty-nine no-holds-barred conversations which drummer Arthur Taylor held with the most influential jazz musicians of the '60s and '70s, including an interview with Nina Simone.
As a black musician himself, Arthur Taylor was able to ask his subjects hard questions about the role of black artists in a white society.
Free to speak their minds, these musicians offer startling insights into their music, their lives, and the creative process itself. 
(author & interviewer: Arthur Taylor)