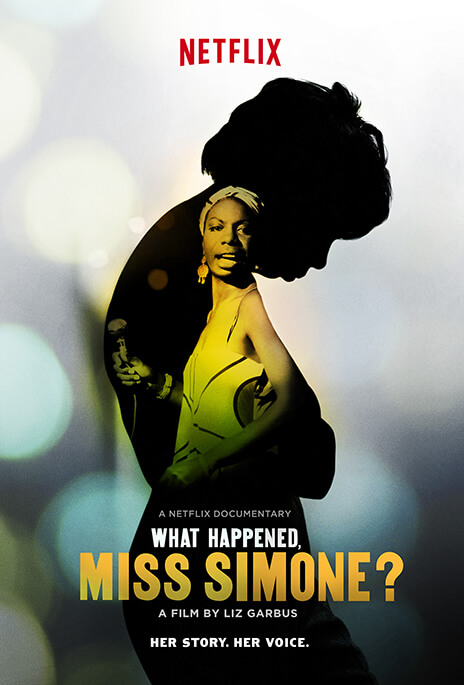 WHAT HAPPENED, MISS SIMONE?
What Happened, Miss Simone? is a biographical documentary film about Nina Simone directed by Liz Garbus. Using never-before-heard recordings, rare archival footage, Nina's best-known songs, and interviews with those whom knew Nina best, this is the most comprehensive and critical story of the legendary pianist, singer, and activist.
The film opened the 2015 Sundance Film Festival. It was subsequently released by Netflix on June 26, 2015.
It was nominated for Best Documentary Feature at the 88th Academy Awards.
It won the following awards: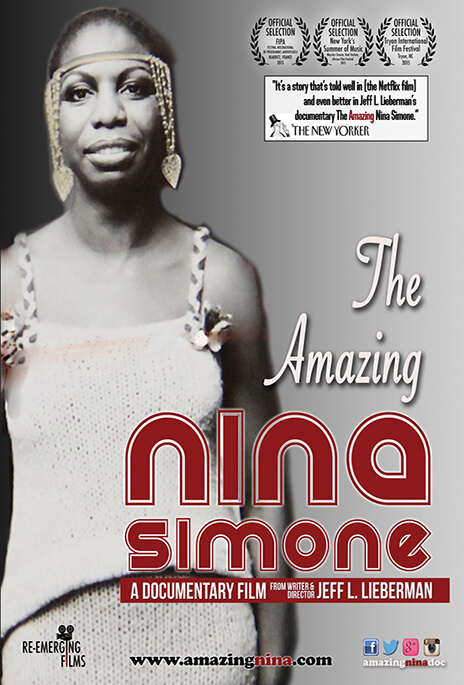 The Amazing Nina Simone is a 2015 documentary film by director Jeff L. Lieberman.
The film details the life, legacy, and musical accomplishments of pianist, singer, songwriter, and civil rights activist Nina Simone, through interviews with over 50 of the subject's friends, family, band members, lovers and fellow activists.
The film has been called the best of the three Nina Simone films by The New Yorker Magazine, and "The Nina Simone film we should all be watching" by Blavity.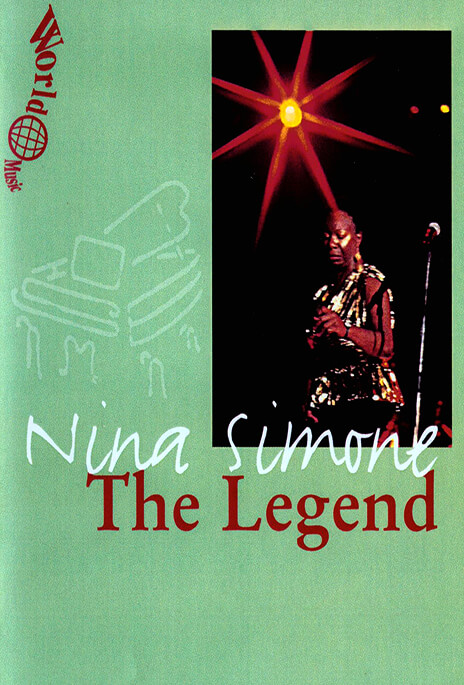 This documentary film, The Legend, on Nina's life and music, made in France by Frank Lords is told in large part by Nina Simone herself.
It is an honest portrayal based on her autobiography "I Put A Spell On You," that shows Nina at her mightiest and at her most vulnerable. The live concert footage is fantastic.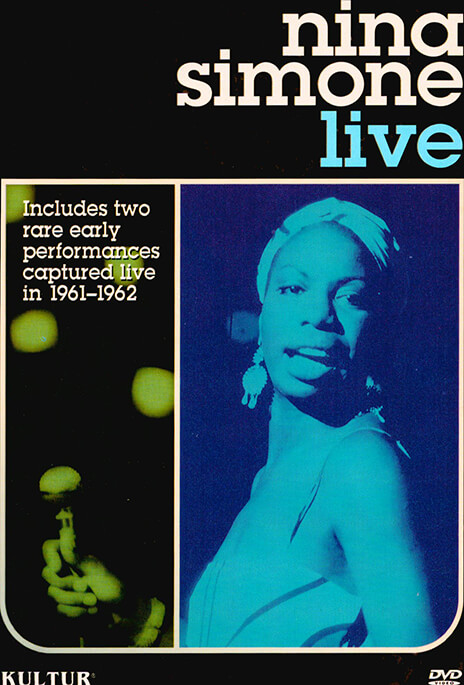 KULTUR: LIVE IN '61 & '62
Nina Simone has always been hard to classify. The "High Priestess of Soul" was trained as a classical pianist, but branched out early into pop, gospel, jazz and blues, playing and singing everyone's compositions and writing many of her own.
At 28 years old, she had already been seen in many clubs and had recorded several LP's when in 1961-62 she agreed to be filmed, without an audience, in a New York City studio.
With a justified reputation as one of the greatest jazz singers of all time, Nina Simone has lit up the music world with some superlative performances over the years.
This footage is culled from shows in 1961 and 1962, and sees Simone tackling a number of songs alone at the piano. Among them are I Loves You Porgy, For All We Know, Sunday In Savannah, and many others.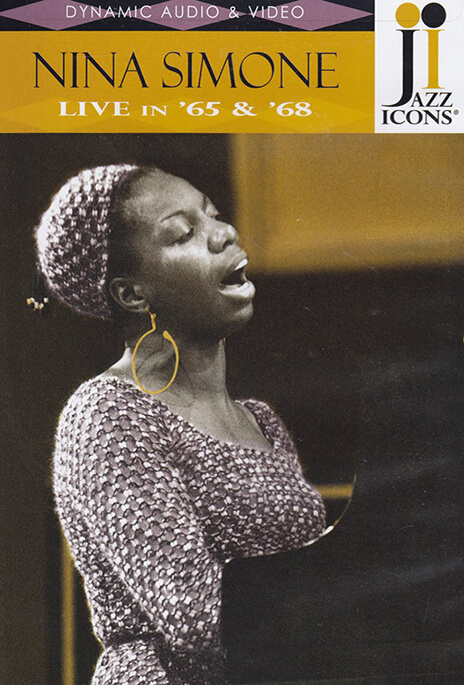 JAZZ ICONS: LIVE IN '65 & '68
Jazz Icons  is the folk Nina (The Ballad of Hollis Brown) and the jazz Nina (Love Me Or Leave Me) presented here in live club and TV performances in typically Nina Simone spellbinding fashion.
Nina recalls the passion, fury and angst of the Civil Rights struggle and the 1960s with impassioned renditions of Brown Baby, Four Women and Mississippi Goddam.
This collection of Nina Simone, a superb vocalist-pianist who absolutely defied categorization, includes a stirring rendition of her signature song I Loves You Porgy.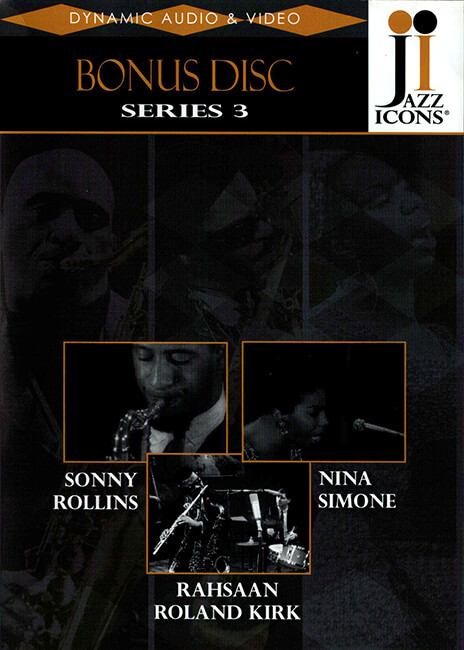 Jazz Icons  offers a bonus disc in the boxed set of DVDs that includes no-holds-barred Nina Simone live performances in 1965 of Mississippi Goddam and Love Me Or Leave Me followed by an interview with the Swedish program host.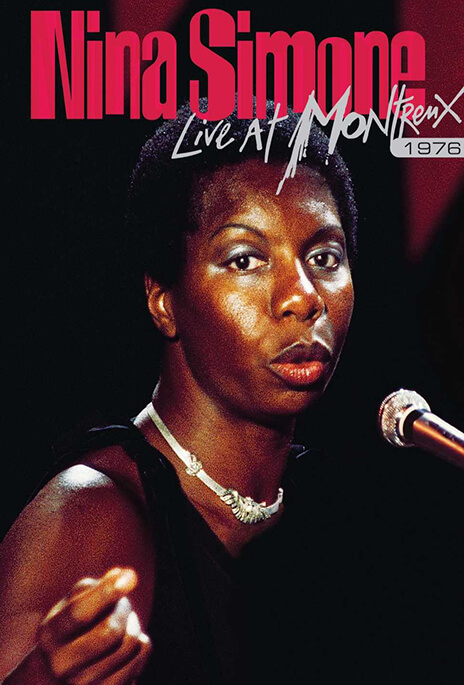 Nina Simone made four appearances at the Montreux Festival between 1968 and 1990. This film features the whole performance from 1976 as the main feature and is supplemented by bonus features of two tracks from her concert in 1987 and four from her final show in 1990.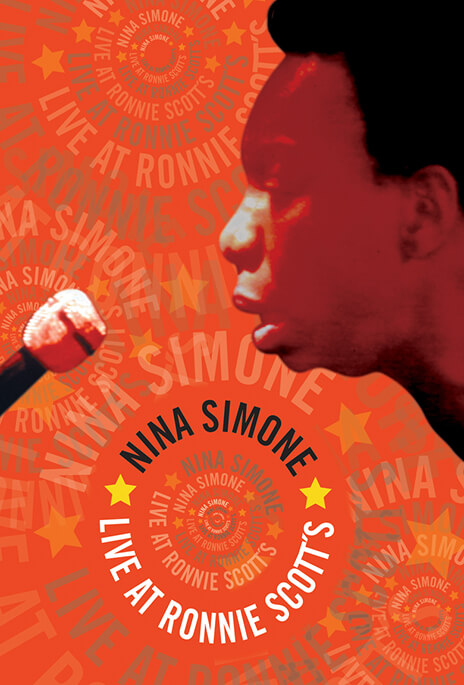 Ronnie Scott's opened in 1959 to provide a place where British Jazz musicians could jam. Eventually, American music musicians such as Johnny Griffin, Roland Kirk, Al Cohn, Stan Getz, Sony Stitt, Benny Golson, Donald Byrd, and Ben Webster played at the club making it the legendary Jazz club it is today.
Today, the club that resides at 47 Frith Street still books the greatest Jazz acts in the world, but also plays host to such diverse musicians as Tom Waits, Linda Lewis, Elkie Brooks, Eric Burdon, Paul Rodgers, Jack Bruce, and also the talented Nina Simone…
This film features Nina Simone (vocals, piano) delivering an intense emotional performance at the legendary Ronnie Scott's in Soho, London on November 17, 1985.
Simone is considered to be one of the most diverse singers of the 20th century, recording material in multiple genres including soul, jazz, pop, blues, gospel, and Broadway. Most often labeled a "soul" singer due to her emotional performing tendencies, Simone is an eclectic musician, who adds a soulful mystique to whatever material she interprets. This brilliant performance at Ronnie Scott's is testament to this fact.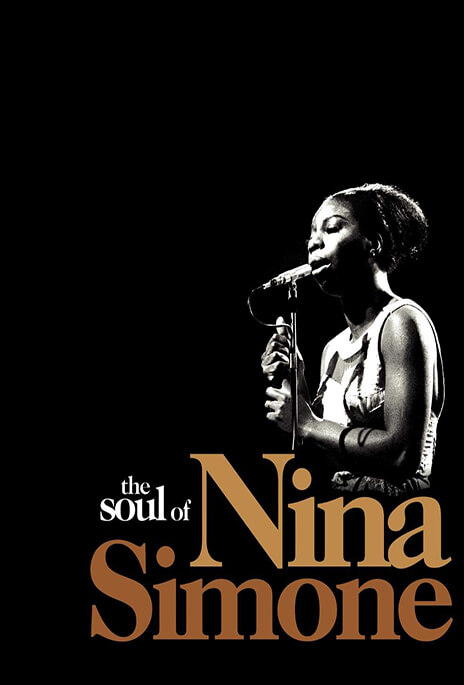 What will undoubtedly excite Simone fans, and what is truly the highlight of The Soul of Nina Simone is the DualDisc's video portion. Featuring live performances that have been impeccably restored, it is a rare chance to witness the raw energy of both Simone's playing and singing in a live setting. The first two cuts take us back to 1960, with Simone's debut on The Ed Sullivan Show.  The other performances fast forward to the tail end of the '60s, when Simone was at the peak of her popularity. 
But it's the most potent material that is saved for last. In what became known as the "Black Woodstock", 1969's Harlem Festival was a series of six concerts that drew nearly 100 000 people to Central Park's northern end. For the first time, Simone's performances have made available to the American public and they are simply fantastic. Watching Simone perform these songs in her prime is mesmerizing, astonishing and a real gift.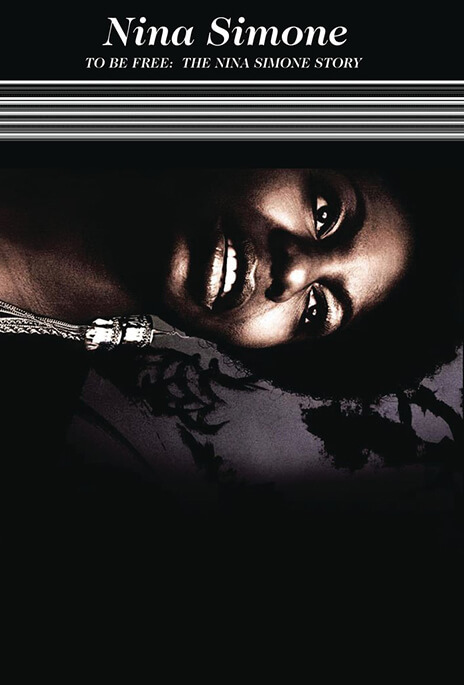 TO BE FREE: THE NINA SIMONE STORY
There was only one Nina Simone, an original and highly imaginative artist whose style embodied a wide range of influences from musical Americana and beyond. To Be Free: The Nina Simone Story (three CDs and a DVD) is a fine boxed set overview of her career, emphasizing the live performances where she was most in her element. 
Culling material from her Bethlehem, Colpix, Philips, RCA, PM, CTI and Elektra recordings, To Be Free is the most comprehensive and wide-ranging of many available collections; it includes all the Billboard and UK national chart singles plus previously unreleased jewels.
(The film included on the DVD is also known as Nina: A Historical Perspective, a documentary produced by Peter Rodis in 1970.)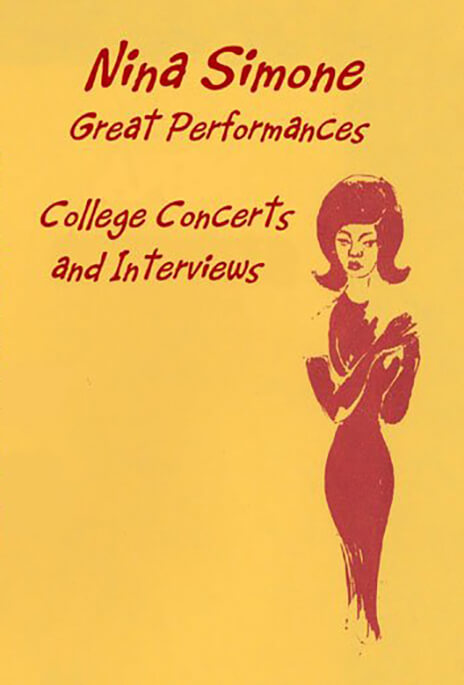 Great Performances: College Concerts and Interviews is an exceptionally rare but powerful collection of performances and interviews compiled by Nina Simone's ex-husband and manager, Andy Stroud. Performances include concerts at Amherst College and at Morehouse College, both in 1969. 
Interspersed between performances are behind the scenes clips of Nina speaking candidly about her music plus insights into her philosophies about music, race, and human relations.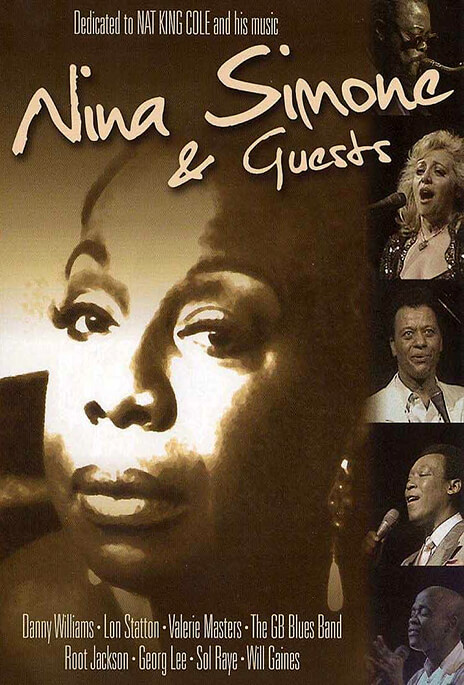 Filmed at the Savoy Theatre in London, this 1985 live recording is dedicated to Nat King Cole. Nina is accompanied by Danny Williams, Lon Statton, Valerie Masters, The GB Blues Band, Root Jackson, Georg Lee, Rol Raye, and Will Gaines. Nina performs Young, Gifted, and Black, Ain't Got No / I Got Life, I Loves You Porgy, and Mississippi Goddam.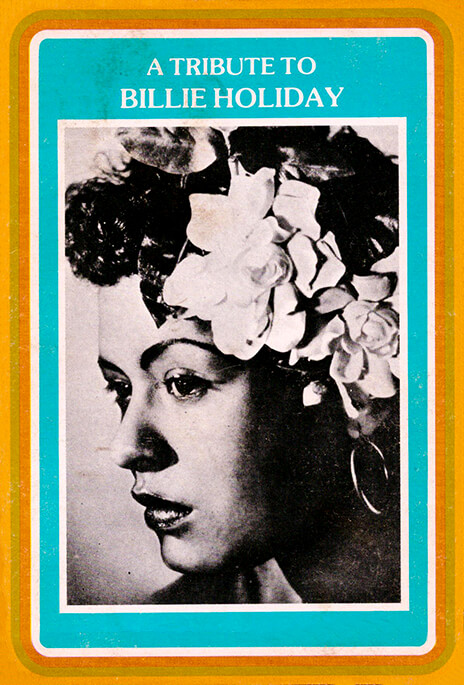 A TRIBUTE TO BILLIE HOLIDAY
A one hour color special performed at the Hollywood Bowl in 1979 capturing 17,000 people and a star-studded concert performance by five of today's top jazz and blues female performers, all present to pay tribute to the legendary Billie Holiday.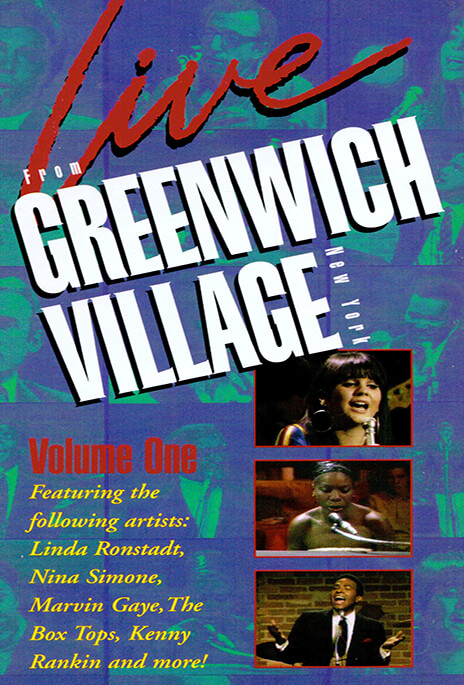 LIVE FROM GREENWICH VILLAGE, VOL. 1
In the sixties, New York, Chicago, and Los Angeles were the music capitals of America. It was in such clubs as the Troubadour, Mister Kelly's, and The Bitter End that young artists learned and performed their craft. Many of them went onto stardom and became part of the pop culture of our time.
Nina performs at The Bitter End in 1968, singing House of the Rising Sun and You'll Go To Hell.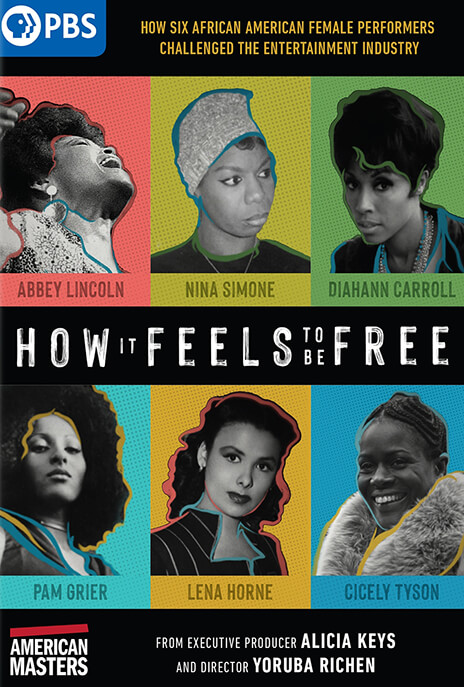 How It Feels to Be Free takes an unprecedented look at the intersection of African American women artists, politics and entertainment and tells the story of how six trailblazing performers (Lena Horne, Abbey Lincoln, Diahann Carroll, Nina Simone, Cicely Tyson, and Pam Grier) changed American culture through their films, fashion, music and politics.